Train your dog from home
With our easy to use, and fun to follow online training academy, where we use modern, science based training methods
It's like having a professional trainer in your home
35% discount ends 2nd February. Use code NOSEWORKCHALLENGE
Our VIP CLUB is a Pay As You Go course that offers instant access to our complete training library which we have personally used to help train thousands of dogs for over a decade.
The training programme gives you everything you will ever need from training your puppy from day 1, to navigating adolescence and taking your dog's training right through to adulthood. We can even support you through problem solving reactivity and behavioural issues
We only train using positive, reward based training methods
From only £28.40 per month to pay as you go (that's less than £1 per day for an incredible amount of content!), and you can cancel anytime. Or pay a one off fee to join us for 1 month only.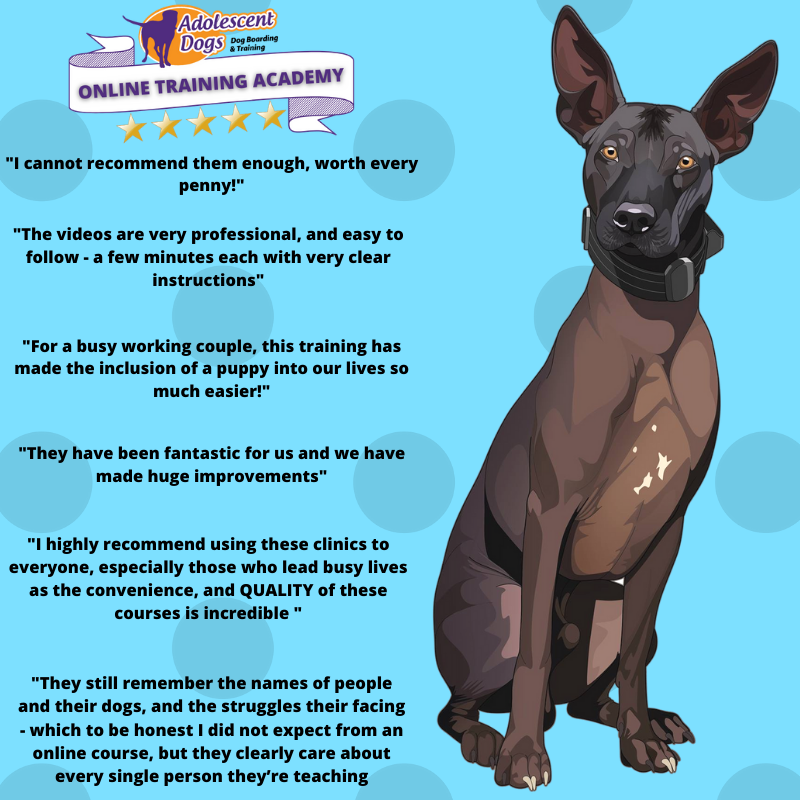 This is a unique opportunity to access step by step video tutorials, lectures solving common training problems, webinars, ebooks, Live training demos with Jenny, Live Q&A with Mike to ask questions, support with building weekly personalised training plans and feedback on your training progress
You'll join our friendly community of like minded dog lovers worldwide who are on the same training journey and already seeing success with their training
This course is led by Head Trainers Jenny Trigg & Mike Newland, offering expert guidance and support every single day. So you'll never feel alone in your training, and can get support as and when you need it!
What will your dog learn?
You'll get instant access to all of our Standalone courses (worth over £370)
Foundation Skills - all of the basic cues & socialisation protocols, to get your puppy or adult dog off to the best start
Calm Canine - teaching your dog good manners, including solving jumping up, biting, stealing, resource guarding, snatching, running through doorways, settling in the home, barking for attention, separation anxiety and more
Unleashed - teaching your dog to come when called, even away from distractions, plus teaching the life saving emergency stop
Lead Pulling - giving you a combination of training techniques to teach your dog to walk to heel on & off lead and to stop your dog from pulling on the lead or lunging
Reactive Rehab - understand why your dog barks at dogs/people/things, and giving simple solutions to improving your dog's behaviour
Brain Games - boosting your dog's confidence, improving focus. and lowering arousal, through tricks and challenging your dog's brain!
Enrichment - Easy enrichment ideas to keep your dog mentally stimulated, and boost their confidence through novelty
Scentwork - teach your dog the first stages of scentwork
Kids Club - get the kids involved in training, with some kid friendly tricks taught by our 7 year old Scarlett
Lectures - short lectures solving common problems such as attention barking, barking at the door, jumping up, play biting, toilet training, trigger stacking, understanding when or if to neuter and more
Ebooks - helping to problem solve behaviour & training challenges
And over 50 bonus videos & ongoing content including:
Impulse Control - stop your dog running off after every dog/person/rabbit, and teach the live saving Chasing Recall
Puppy Diaries - see how we raise a puppy from day 1! A puppy 'walk-through' guide!
Trick Dog Titles - through Do More With Your Dog - new videos added each month to earn your Trick Dog Titles
Live training demos - we train a novice dog Live every week, troubleshooting common training issues
Live Q&A group chats with Mike Newland to ask questions about your dog's training, and get help troubleshooting your struggles
Weekly custom training plans - we'll help you build a weekly training plan for your dog, so you know which videos to work on and how to progress
Monthly Live Webinars with Mike Newland, covering important topics such as puppy socialisation, troublesome adolescence, reactivity, food motivation and more!
Monthly competitions & fun challenges: win dog toys/treats, one to one lessons, and get money off classes
24 Day Xmas Challenge - 24 mini videos covering a variety of fun tricks, plus co-operative care to help make handling, grooming and vet visits stress free!
30 Day Puppy to Pro Challenge - what we teach our pups everyday for the first 30 days, and how each exercise is advanced
Nosework Challenge- starts 1st February, deep diving into scentwork with your dog!
We train using
modern, reward based training methods
. Using motivational techniques which include using markers, toys and food to train your dog.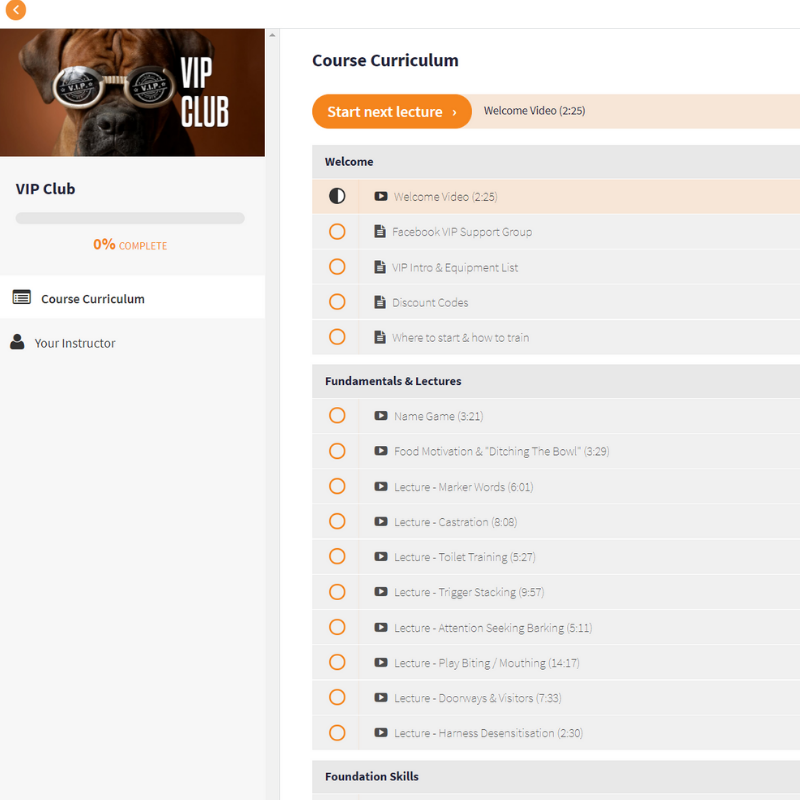 Video Archives
All training videos in one convenient location. Watch at a time to suit you from any device.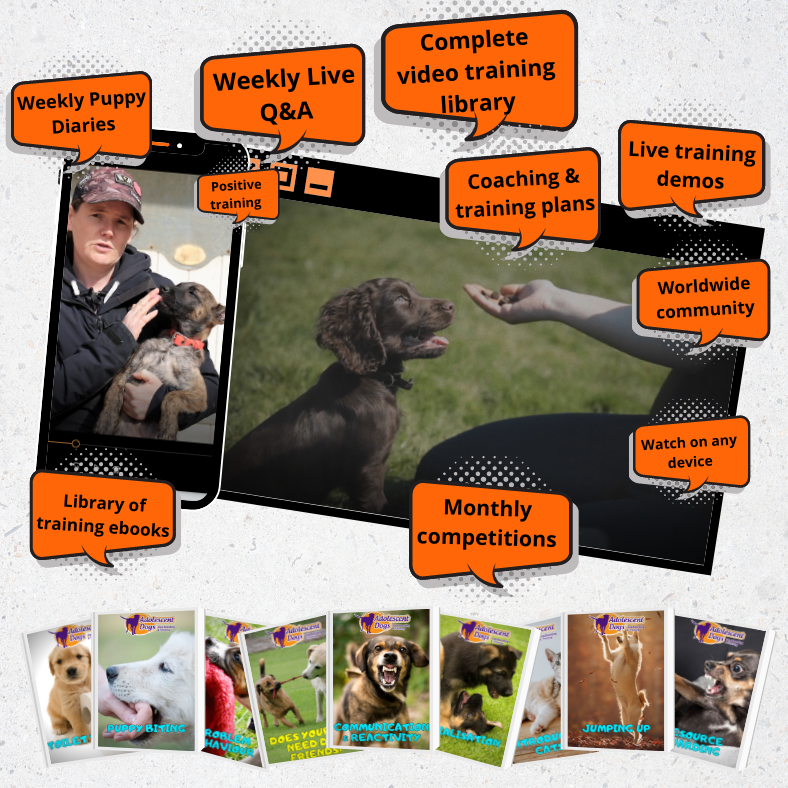 Resource Library
A collection of our top training & behaviour articles to support your training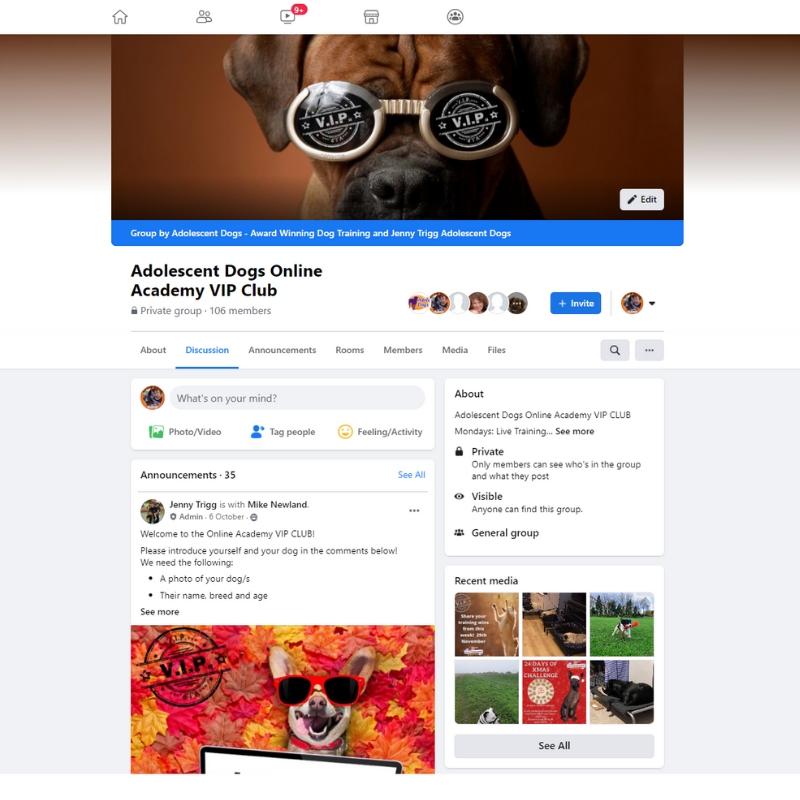 Facebook Support Group
Share your training journey with other like minded dog lovers worldwide who are already seeing success in their training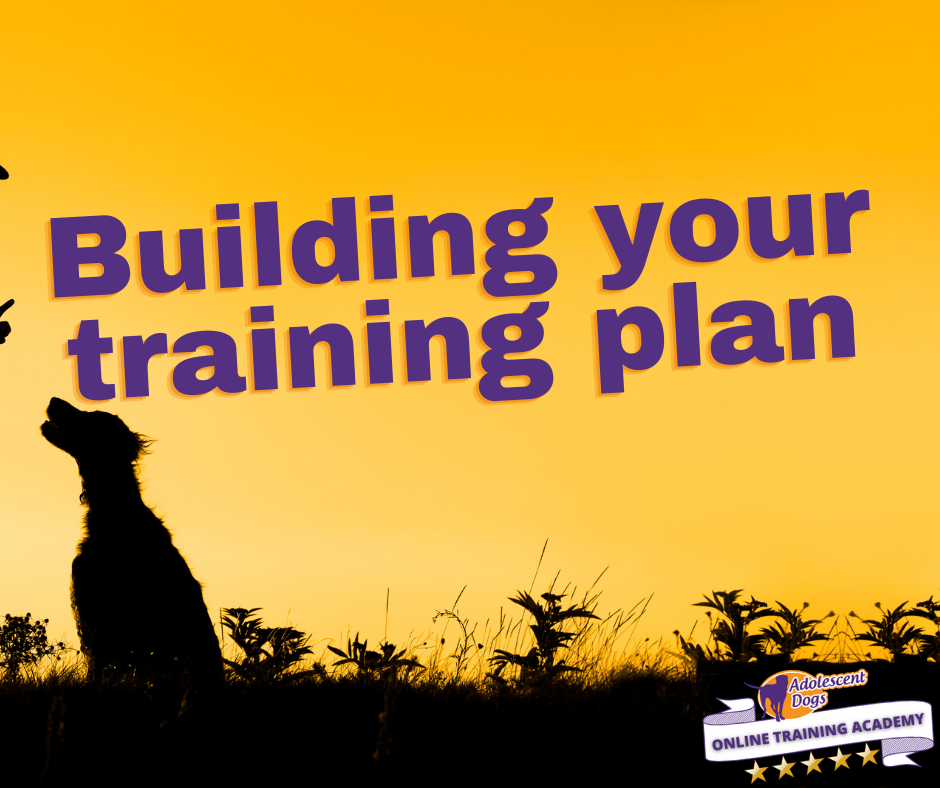 Custom Training Plans
We'll help you build a customised training plan each week, specific to your dog's trainign needs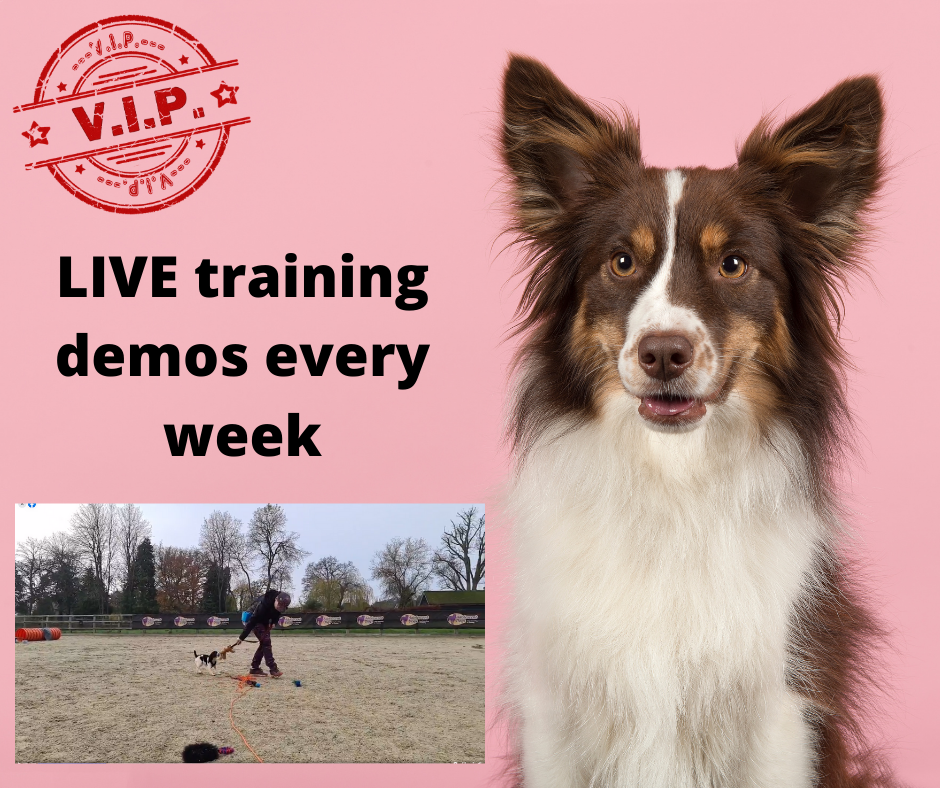 Live Training Demos
Every week, we will do a Live training demo with a novice dog, troubleshooting common training problems, and showing alternative training methods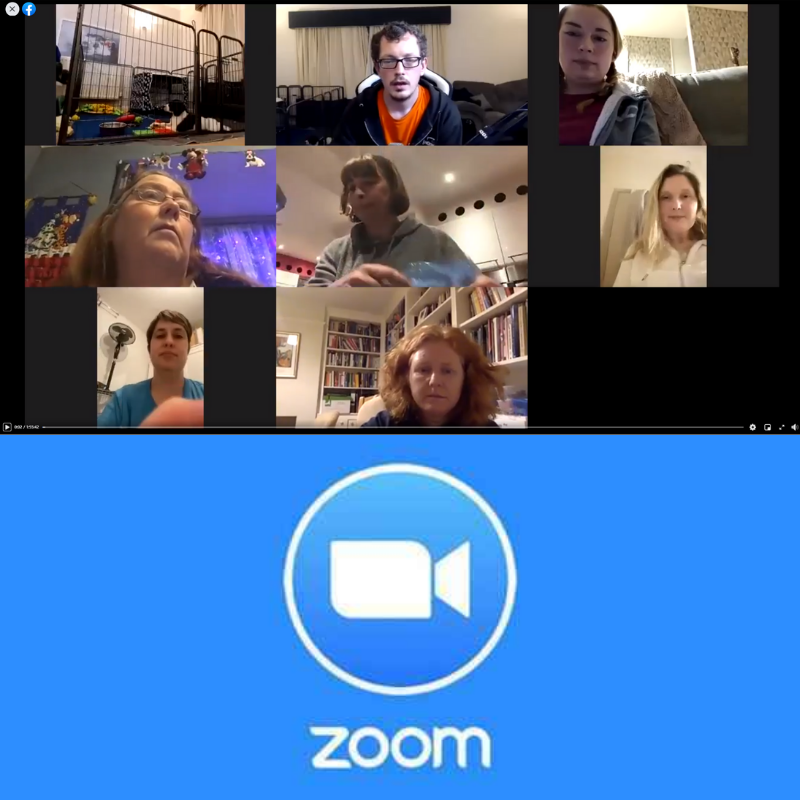 Live Q&A Chat
Every week, you can join in with a Live group Zoom call with Mike Newland, to ask any questions you might have, and to get help with your weekly training struggles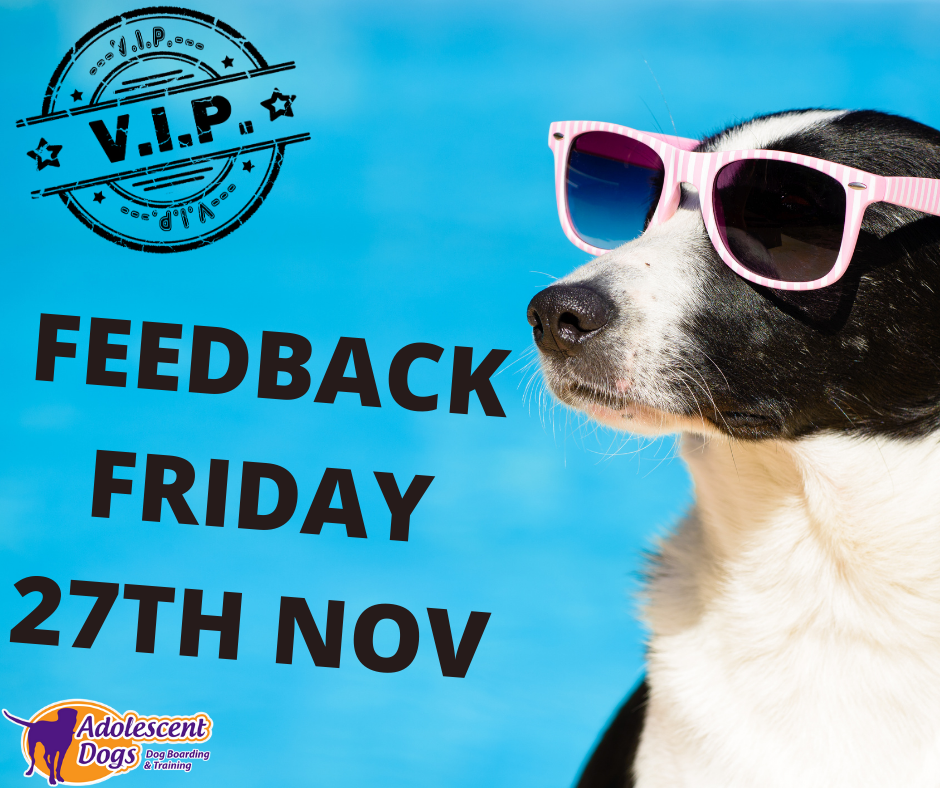 Feedback on your training
You can share your training videos every week, to get feedback and constructive advice on your training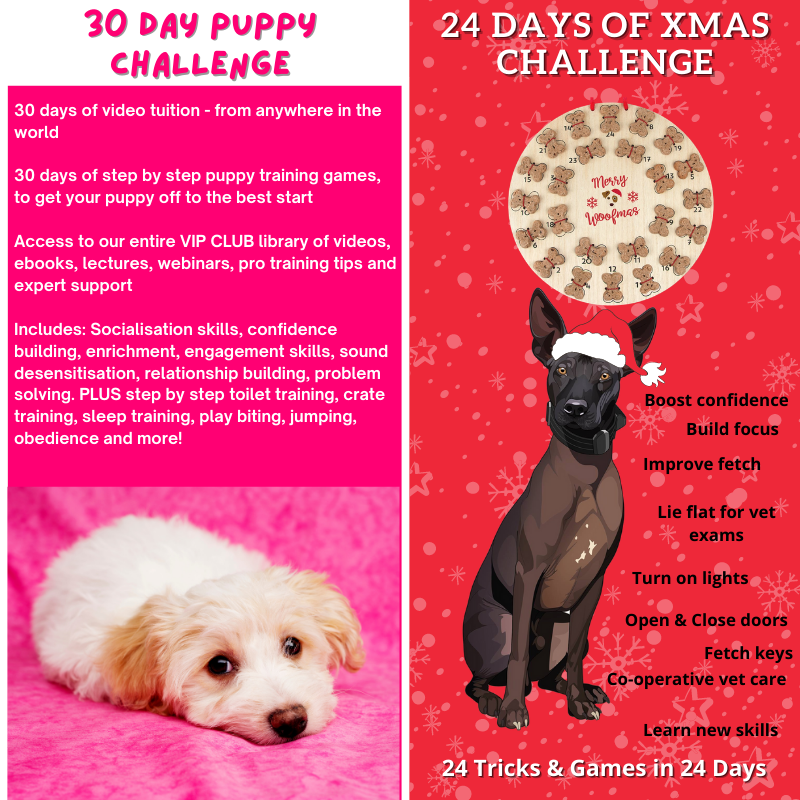 Monthly Challenges & Bonus videos
Get access to all the monthly challenges, plus all new videos we release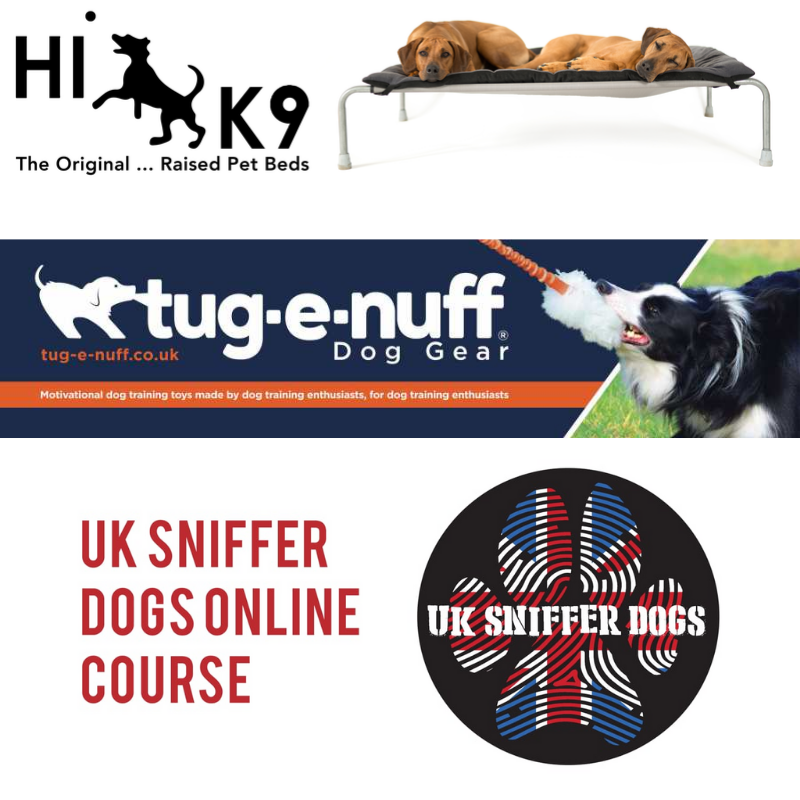 Discounts
Get first refusal on any new class or workshop we run, along with a 10% discount code. Plus discounts on dog toys and equipment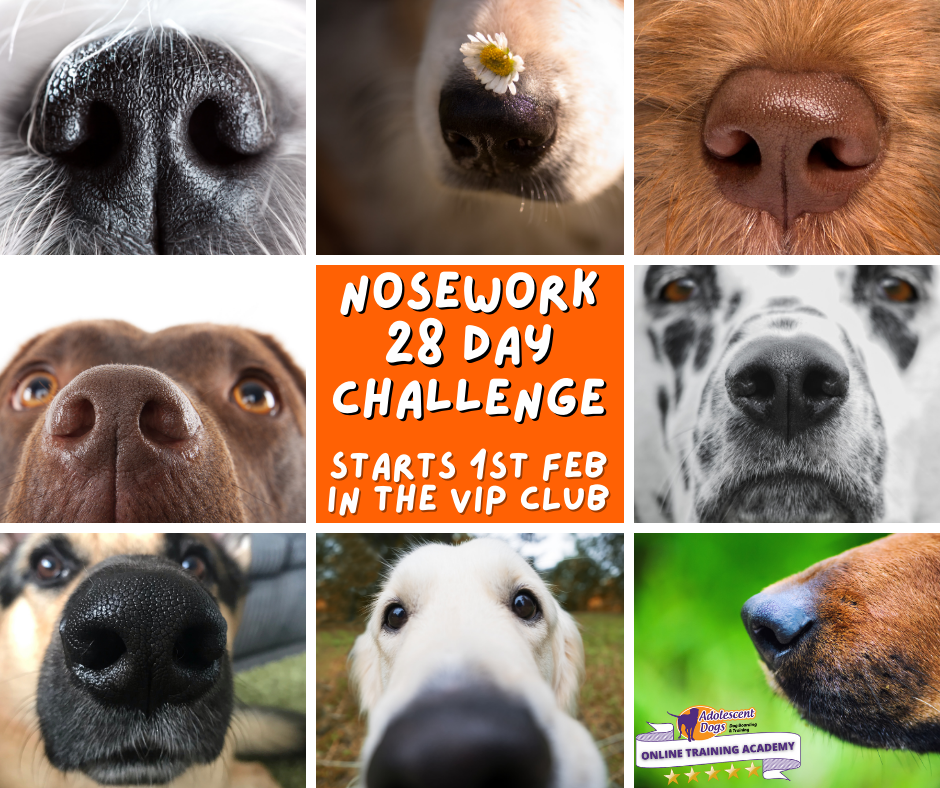 28 Day Nosework Challenge starts 1st Feb
Our VIP CLUB includes FREE access to our February Nosework Challenge
We're excited to introduce 28 days of nosework for your dog, accessible from anywhere in the world!
We'll post 1 video tutorial a day for 28 days, teaching you and your dog the foundation components of teaching scentwork to your dog. And we'll be showing you with a completely novice dog!
The videos will be recorded, so you can watch back at a time to suit you, and the videos will be available for as long as you're a member!
Scentwork is one of the most popular dog sports, and is a fantastic low impact activity that is suitable for puppies, adult dogs and senior dogs. It's great for building focus, reducing reactivity, building confidence, lowering arousal and giving our dogs a job to do, so they don't go freelance hunting with their nose by themselves!
Open to all levels, no previous experience necessary.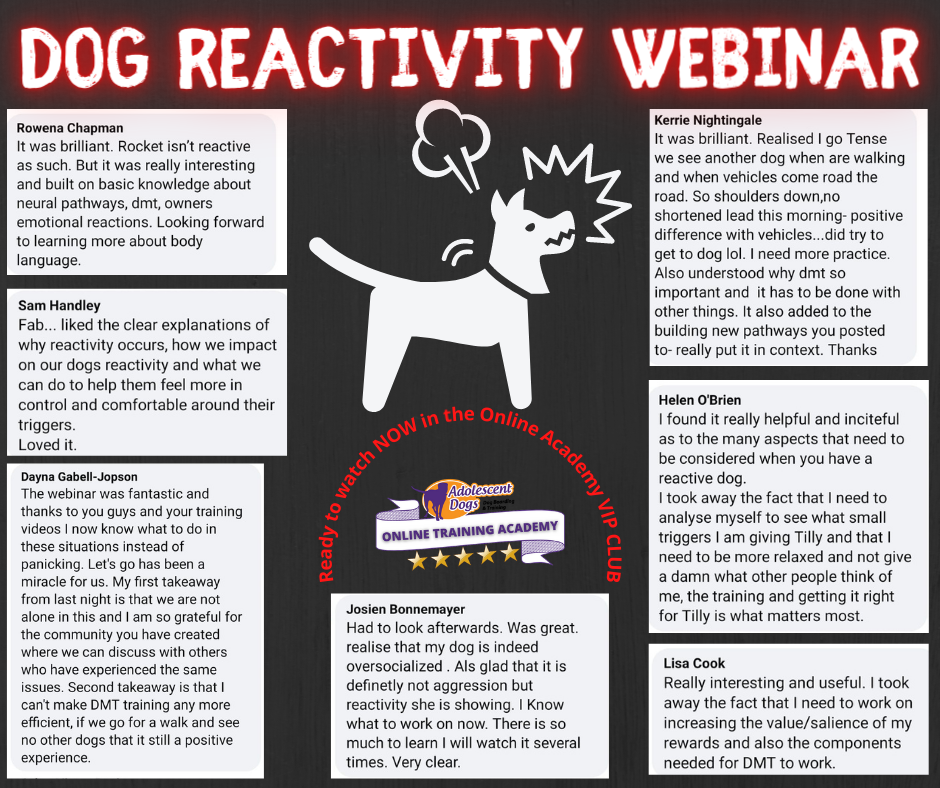 Reactivity Webinar
VIP CLUB offers exclusive access to our Reactivity Webinar.
In this 2 hour recorded online webinar, Mike Newland discusses:
Breeder errors

Over vs under socialisation

Impact of doggy daycare & dog parks

Genetic predisposition

Effect of castration / speying

Reactive or aggressive?

Handler input

Over arousal

Reading body language

Trigger stacking

Practised behaviour

Greeting chains

Fight / flight

Neurology in a nutshell (Front/hind brain & neural pathways)

Conditioned emotional responses (CER)

Counter conditioning

Extinction & why we don't use it

Reality of reactivity & mindset

Practical, force free solutions

Response to questions that were asked Live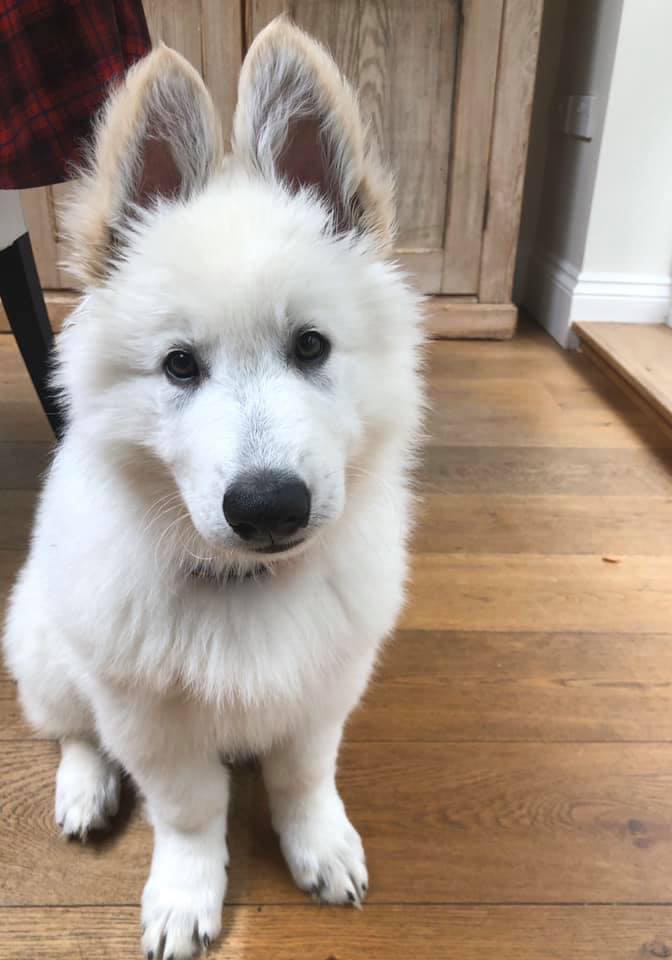 Course Review by C Croft
We cannot thank Jenny and Mike enough. Before the course started we were struggling to really make any progress or to even have any confidence. With our previous dogs, we had been to regular puppy school. We of course learned a few things but nothing dramatic. Not so with this programme.
It was transformative for me and my family. The video's make it possible to revisit the lessons endlessly, the lectures helped us learn things we needed to know, the feedback sessions picked up small mistakes we did not know had such a big impact on behaviour. In short, an invaluable four weeks. Thank you so much.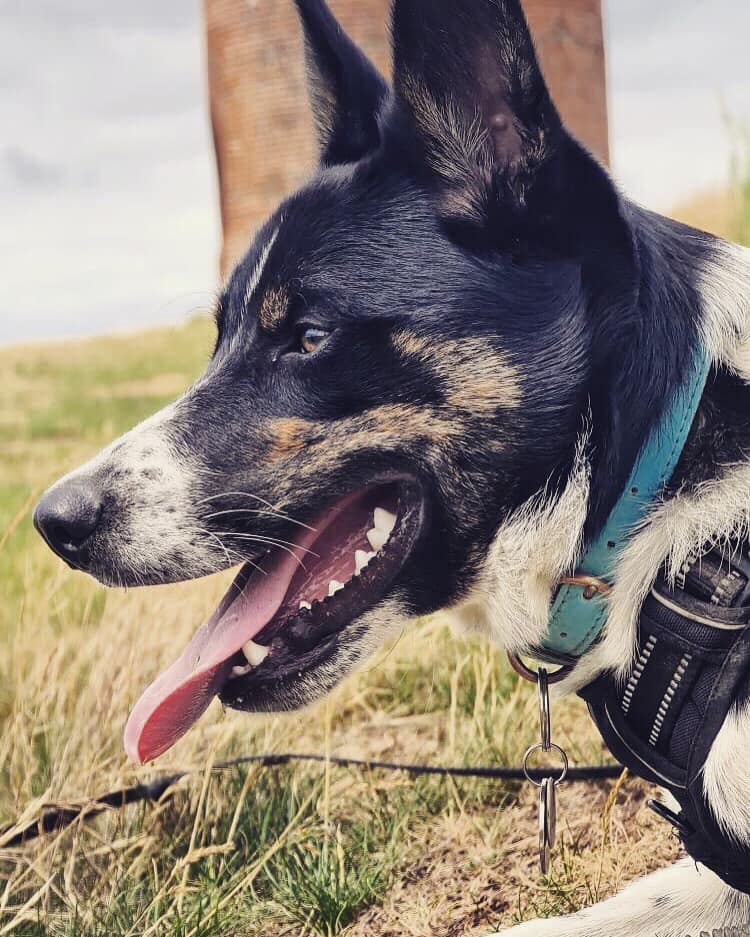 Course Review by C Dueck
 I highly recommend using these courses to everyone, especially those who lead busy lives as the convenience, and QUALITY of these courses is incredible.
Jenny and Mike are clearly very passionate about dogs, and training and even with all the people on these courses, they still remember the names of people and their dogs, and the struggles their facing - which to be honest I did not expect from an online course, but they clearly care about every single person they're teaching.
I loved the courses so much, I've already purchased another and I plan on doing every course they offer. If I could give Adolescent Dogs more than five stars, I would. Thanks so much, Jenny and Mike!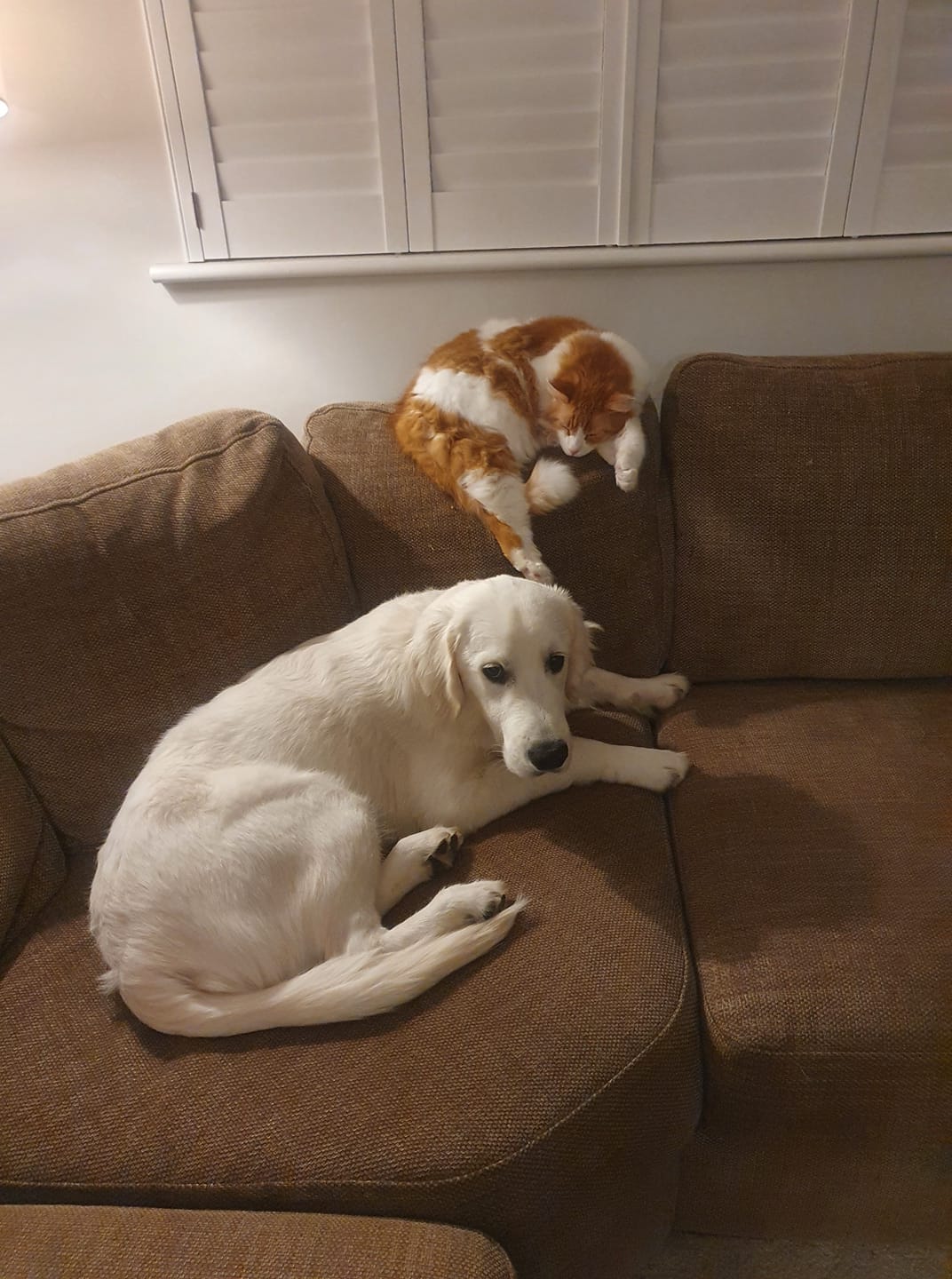 VIP Review by Kerry Nightingale
Best ever on line training and most importantly real time support. Join VIP club as the videos are soooooo helpful and break things down. The live meetings and training demos are brilliant.
Jenny and Mike make you comfortable to ask questions, to get things wrong and learning a friendly environment.
Since following their methods we have made such a difference to our golden retriever, even though we had a positive 121 trainer come to our home before lock down.
We wish we had found adolescent dogs earlier when our puppy was younger. I cannot recommend them enough, worth every penny. We adore our puppy and feel we are making a really positive investment all our futures by training with them.


All-access pass to a better behaved dog
VIP CLUB Curriculum
This curriculum is constantly being added to